at Slingshot Swing, we'll help you
FIND YOUR RHYTHM
---
Structured Swing Classes
Want to learn to partner dance? This is the place for you! We cater to all skill levels with a focus on creating an engaging, fun atmosphere as people learn best in a welcoming, safe environment where they feel comfortable expressing themselves.
Dedicated Instructors
Our goal at Slingshot Swing is to give you the confidence and ability to find your self-expression so you can have a great time while dancing Lindy Hop. With our many years of dance experience, we're confident in providing this experience.
Free Trial Classes*
Join us for a free trial, and if you dislike the class you pay nothing unless you continue with us. Each batch has limited trial slots, so contact us early to avail of them. If you miss out on a free trial, we offer some discounts on beginner class fees.
Scroll down for testimonials and registration
Testimonials
---
See what our students have to say about us.
Sam and Prekshaa are not only gifted dance teachers but are fun to learn with. I had not heard of Lindy Hop Swing but Sam and Prekshaa have made me fall in love with it. Their classes are an informal happy place where you can learn to dance and be part of an interesting community! I totally recommend Slingshot Swing for Lindy Hop.
Clyde D'souza
Author & Media Professional
This is my first time partner dancing. I was intimidated by footwork and having to co-ordinate with a partner. Turns out it's not that hard as Prekshaa and Sam break it down step by step and make you understand the rhythm and music. They encourage the individual styles people add so you never feel you're doing something wrong.

Ishitaa Pahuja
Hairdresser at Eetle Beetle
I've had great fun learning Lindy Hop from Sam and Prekshaa. Not only are they gracious as dance instructors with a unique teaching approach, but they also take the time to acquaint you with the history and cultural significance of the music and dance form — something that helps cultivate so much interest in what you're learning.

Harsh Loonker
Lawyer
Sam and Prekshaa make the classes very fun to attend. They explain the steps in a simple manner and give people time and instructions to practice. If you're looking to learn Swing dancing, definitely recommend. Also to keep in mind that one should finish the beginner classes as they serve as a basis for more advanced material.

Siddhartha Singh
Game designer & Corporate HR
Get in touch with us below
For classes, offers and dance nights
Gallery
---
Classes, social events and performances
Prekshaa discovered Lindy Hop in 2016 and hasn't stopped swiveling since. She finds Lindy Hop to be the most joyous way to connect with people.
She has had the opportunity to learn the dance extensively in France, through dance camps in Bulgaria and Seoul, and seeks out other dance forms like ballet and tap to complement her form and rhythm.
Her skills as a long time French teacher help her to connect with and better guide students in class and with her help you'll hit the dance floor running in no time.

Prekshaa Pahuja
Instructor
Sam began partner dancing in 2016 and was most drawn to Lindy Hop with his fondness for Swing music and Rock 'n' Roll.
While his love for the music and his appreciation of its vast, colourful history is what drives him most as a dancer, he credits his technical understanding of partnered dancing to his Salsa instructor. He has attended dance camps in Bangkok and Seoul, and trained one-on-one with acclaimed international instructors.
Given the chance, he'll listen to Louis Armstrong albums on repeat all day long.

Samuel Ribeiro
Instructor
What's Swing?
Swing dance is a family of African-American origin dances that evolved alongside the Swing music of the early 1900's, the most prominent being Lindy Hop. Much like Swing music, Lindy Hop finds its roots in the terrible experiences of African-Americans in the decades of slavery before and leading up to the American Civil War.
The dance — and the music — span a wide spectrum of feelings and emotions - joy, sorrow, hope and love. It is characterised heavily by improvisation of rhythm and melody, and a collaborative spirit or interplay amongst musicians and dancers. While Swing dance is primarily seen as a partnered dance, its influences from Tap dance allow partners to break away into solo movements, playing off each other's improvisation. Lindy Hop is best known for its acrobatic air steps, flips and dips.
As instructors who are not born into African-American culture, we strive to educate ourselves in the history and culture of the dance and music so we can provide our students with a better understanding and appreciation for it.
Frequently Asked Questions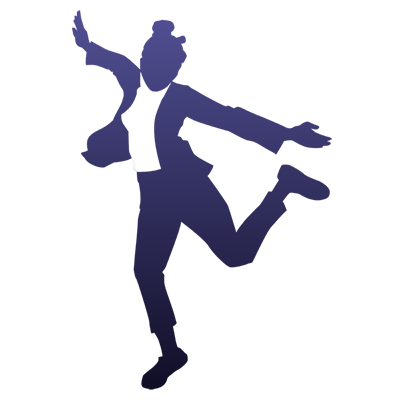 Contact Us
---
Drop us a message, or simply call us.
Visit Us
Sycamore Bungalow, Ground Floor,
South Avenue, Santacruz (W)
Mumbai, India 400054